Tropical School for Green Sciences
This is a new initiative of IISAC in bringing subjects related to nature and environment under one roof to provide studies related to Green technologies for an echo-friendly sustainable future promoting conservation of bio diversity and environmental health. The professors and scientists from the University of Kerala working in the fields of plant Biology, Zoology, Biodiversity and Ecology, Marine Biology, Aquatic Biology, Health Sciences, Environmental Sciences, Biotechnology, Chemistry, Biochemistry, Herbal Medicine, Agriculture and Horticulture are now associating with IISAC to achieve this goal.
Under the supervision of IISAC, they provide courses, field studies and projects for the North American students who like to enroll for a Summer or Semester in Tropical and Nature Sciences. The sub-specialization in a specific area will allow these student to become professionals in Nature Sciences like; Naturalist, Agriculturist, Botanist, Marine Biologist, Geologist, Environmental Engineer and Natural Resource Managers.
Sustainability related projects are the priority of the UN and IISAC promotes professors and scientists to submit proposals related to biodiversity, conservation biology, environmental protection, public health, community empowerment and green technologies.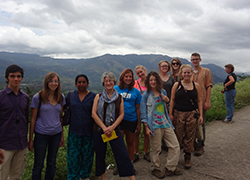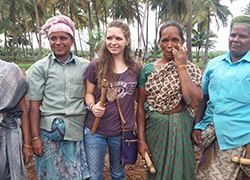 Tropical Sciences & Agriculture Study Abroad India Programs
IISAC has developed Tropical Sciences and Agriculture abroad program to promote specialized studies in Tropical biodiversity and Ecology, Natural Resources Management, Environmental and Earth Sciences, Agriculture and Horticulture, Tropical Plant and Animal diversity, Marine Biology and Fisheries, Public health & Tropical Medicine, Ayurveda and Herbal Medicine, Sustainable development and eco-tourism.
Locations and Institutions
All these programs are offered in the State of Kerala in association with:
University of Kerala in Thiruvanathapuram
TIES (Tropical School of Ecological Sciences) in Kottayam
Biological Wealth of Kerala
Kerala, known as a mega biodiversity hotspot, is ranked as one of the ten paradises on earth by National Geographic Traveler and is an ideal natural history destination for nature, environment and health related study and research. Kerala, a state in Southern India, is blessed with an enchanting array of natural beauty from beautiful beaches to backwaters to tropical forests. Considering its biological significance, the international Union for Conservation of Nature (IUCN) has recognized Kerala as one of the world's mega biodiversity regions.
This mega biodiversity region accounts for a major portion of the Indian plant and animal diversity. This region is a home to nearly 10035 plant species including 4575 species of angiosperms (1272 of which are endemic, 159 threatened including 900 species of medicinal plants), 329 pteridophytes, 226 bryophytes, 428 lichens and 866 algae, 477 birds, 156 reptiles (140 are endemic), 93 amphibians (86 endemic) and 282 inland varieties of fish. In addition to the immense beauty and rich biodiversity in Kerala is also known for several Ramsar Convention listed wetlands.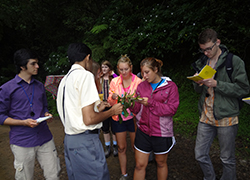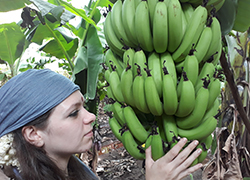 Green Sciences in India
| | |
| --- | --- |
| Tropical Biodiversity and Ecology Study aboard India Program | |
| Plant Biology and Taxonomy Study aboard India Program | |
| Marine Biology and Fisheries Study aboard India Program | |
| Agriculture and Horticulture Study aboard India Program | |
| Environment & Earth Sciences | |
TYPES OF SHORT TERM PROGRAMS FOR FOREIGN STUDENTS IN INDIA
Semester India Program
This is an intensive 15 credits program for 100 days and will include lectures, field trips, lab exercises and a research project. Professors and scientists from Kerala University and TIES will conduct this program.
Program start dates; (Fall) August 15th (Spring) January 15th
India Summer Program
This is a short term program of 6 weeks offered in June 1st and July 1st for 6 transferable academic credits.
Student Directed Research Projects
Independent research from one month to a year is available for variable research credits. Ideal for Capstone projects ,undergraduate research and graduate thesis.
Research Areas:
Biodiversity conservation and management/Ecosystem management/Wild life resources/ Ethno Biological studies/Waste Management/ Natural Resource Management/ Emerging epidemics/ Public Health issues/ Pollution/ Toxicological studies/ Tropical diseases/ Environmental biotechnology/ Molecular Biology/ Phytochemistry/ Food Technology/ Bioinformatics/ Tropical Agriculture and Horticulture/ Marine biology/ Aquaculture.
Practical Training Program
Practical training is also provided as a part of skill development for variable credits. Plant and animal taxonomy/ Identification of taxa such as butterflies, Dragon flies and Damselflies, fishes, birds, small mammals, medicinal plants and forest trees/ Water testing/ Soil testing/Organic farming practices/ Creating butterfly gardens and bird paradises/Mushroom cultivation/ Honeybee farming/ Phytochemical analysis of medicinal plants/ Isolation and Characterization of bacteria and fungi from environmental samples/ Tissue culture studies for plant propagation/ Vermiculture/ Vector control/ Biodiversity estimation techniques/ Geoinformatics/ Bioinformatics/ Protein profiling/Biodiversity documentation of micro fungi (water, soil and air) bioremediation of plastics using different strains of fungi, nature photography, Molecular Biology techniques, Protein chemistry techniques and Genomics
Connecting with local community and NGOs
Students will be given numerous opportunities to interact with local people and NGOs to understand community views on biodiversity threat, environmental degradation and natural resource management issues. Students are allowed to involve with the local NGOs to improve the quality of lives of the local people by living in villages. Volunteering and Service learning opportunities are also provided.
Program Highlights
Explore and experience tropical biodiversity in Western Ghats of Kerala, one of the mega biodiversity hotspots of the world
6 weeks to 14 weeks programs for foreign students in interested areas of nature biology
14 days of expedition through major ecosystems and vegetation zones of Kerala: tropical rainforests, shola forests, savannas, scrub jungles, grasslands, wetlands, estuaries, backwaters, mangroves, coral reefs and agro ecosystems(Expedition will very from program to program)
Special emphasis on Western Ghats biodiversity: wildlife management, forestry projects, identification of flora and fauna, conservation projects, tribal community projects, endemic and threatened species projects.
Emphasis on field skills: identification of flora and fauna, biodiversity estimation, water and soil quality testing, natural and altered ecosystem analysis, statistical techniques, forest structure study skills, wildlife management principles, invasive species documentation, conservation techniques, identification of common birds, butterflies, amphibians, dragon flies, damsel flies, medicinal plants, timber yielding plants and non timber products.
Hours of hikes and treks, jungle walks, riparian walks, elephant safari, birding, nature photography, backwater cruise, yoga practice, ayurvedic experience and cultural exchange.
Visit to Lakshadweep islands for marine ecology, coral reefs, snorkeling, scuba diving, kayaking, deep sea fishing and beaches (by special arrangement only).
Field visits to environmental NGOs, organic farms, biogas and wind energy farms, spice gardens, plantation crops, vegetable farms and orchards, livestock farms, aquaculture and apiculture centers, environmentally challenged locations and eco heritage centers like sacred groves.
Several partner Universities from U.S.A and faculty members from University of Kerala conduct faculty –led programs through lecture sessions, lab practical, field visits and field research.
Student directed research projects, practical training and opportunities for collaborative research.
Dr. Sunny Luke, a retired Biology Professor and Scientist from USA is the coordinator who will oversee all the programs related to tropical sciences and agriculture in India. His graduate degree from the University of Kerala in Plant Biology, Genetics and Plant Breeding and his professional background from Nigeria as an Agricultural Inspector with the Ministry of Education made him a successful farmer. He also specialized in Medical Biotechnology by undergoing graduate studies and research in USA and published heavily in the fields of Medical Genetics, Molecular Pathology & Tissue Engineering.
Contact him for the full details of the program and for direct admission to the University of Kerala or for organizing independent projects or study in India.
lukesunny51@gmail.com, iisac.nonprofit@gmail.com