IISAC'S Study abroad Kerala Programs
Kerala is a state on the southwest tip of the Indian peninsula and it has followed a development pattern of its own. With 'quality of life indices' comparable with that of several European countries,the state has sparked interest in many economists and sociologists around the world. With foreign influences as diverse as Chinese, and Portuguese, Arab and Dutch, Kerala is the spice coast of India. The state is composed of vast expanse of green paddy fields and a network of rivers and lagoons. Upland Kerala is composed of hills, thickly wooded with rubber and teak.

IISAC provides didactic courses in Kerala studies, Arts, History, Religions, Philosophy and the Kerala language Malayalam. IISAC also organizes research internships in Kerala studies, field trips in tropical biodiversity, sustainable communities (www.studyabroadkerala.org) and practical training in Kerala performing arts, music, paintings, cooking and folk crafts. Students can opt for 3 weeks to 12 weeks of study ranging from 3 credits to 9 credits in Kerala related subjects. This will be provided through individualized study, individualized projects, practicum, faculty led study abroad programs and collaborative international research.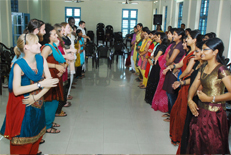 www.studyabroadkerala.org
Currently, opportunities in Kerala studies are available on an individual basis in the following areas:
1. Kerala studies - 3 Cr
Introduction to Kerala Studies' is a reference book published by IISAC for those interested to learn more about Kerala, a region in the southwestern tip of India with enchanting beauty, magical biodiversity, magnificent culture and an intriguing developmental trajectory. The book provides college aged Malayali Diaspora, undergraduate students of foreign universities, and the degree students of universities in Kerala, professors of South Asian Studies and education tour operators direct access to Kerala society and culture.
After an introductory section on Kerala, the covers wider subject areas such as Geography, History, Religion, Political Economy, Anthropology, Arts, Literature, Sociology, Biodiversity, Agriculture, Wildlife, Fisheries and Floristic Wealth. The book is organized in thirteen general sections with 87 chapters. The chapters in each section are organized from introductory to advanced levels to cater to the readers from diverse backgrounds. This pioneering book is the attempt to bring Kerala to the academic arena which can serve as a reference book for semester and faculty-led programs of foreign universities in Kerala, and also to promote root tourism for Malayali Diaspora. Edited by eminent professors and contributed by 106 scholars of Kerala studies, this book of 1400 pages in two volumes is a contribution of IISAC to the current and future generations.
2. History of St.Thomas Christians - 3 Cr
The vast majority of Indian Christians, who form only a tiny majority of less than 3% of the national population, hail from the state of Kerala. They claim their heritage from St.Thomas, one of the twelve apostles of Christ, who came to Kerala in AD 52. Though they are still a minority, their influence on and contributions to the national life far outweighs their number. Kottayam is the seat of several major and minor seminaries. IISAC offers the best window for a close look at the history and contributions of the St.Thomas Christians in India.
3. Gandhian Thought – its significance in the 21st century – 3 Cr
Mahatma Gandhi has been acknowledged to be one of the most significant influences upon human history in the 20th century. As the leader of a movement of emancipation of a sub-continent from the strangle- hold of a colonial power, Gandhi proved to the world the power of truth and non –violence. He also became the inspiration for the liberation of scores of nations on the African continent. Gandhi's thoughts are still relevant and may hold the key to many problems faced by the world in the 21st century.
4. Indian studies 1 – An outline of Indian History and culture – 3 Cr
A look into Indian history from Vedic times to the modern era. The course takes the student on a tour of the most fascinating aspects of this ancient civilization, from Indus valley, where they had well –laid out towns and sewage systems 2000 years BC, through the writing of the great Indian epics Ramayana and Mahabaratha, the great dynasties that presided over the destinies of this great land, the British Raj with its tales of splendor, plunder and massacre and finally to the modern democracy , that in itself is considered a marvel.
5. Indian studies 2- Socio-economic transformation of modern India – 3 Cr
A study of the radical changes in the socio-economic fronts in India in the second half of 20th century. Changes in the agricultural and industrial sectors that have transformed the face of India, developments in the field of education that have contributed to the emancipation of the down – trodden, the new consciousness of the importance of preserving the environment, and social movements responsible for the drastic changes in the attitude of Indians may be examined.
6. Introduction to tropical flora – 3 Cr
An introduction to tropical plants with special reference to cash crops such as rubber, tea, coffee, cocoa, coconut, food crops such as rice, and banana and host of ornamental plants that capture the eye and imagination. Identification and classification of the myriad varieties of tropical plants that abound in Kerala and adjoining states. The course will have as its special feature opportunities for field study in large plantations, which in themselves are breath – taking scenes of natural beauty.
Program Director
Dr. Sunny Luke

7. Introduction to tropical fauna – 3 Cr
Identification and classification of tropical fauna: Kerala, with its wild life sanctuaries, offers an excellent opportunity to study the tropical fauna in their natural habitats. The bird sanctuary at Kumarakom, famous for its Siberian cranes, is only 10 miles from IISAC's tropical green school. Thekkady and Bandhipur, within a day's journey, abound in wild life. Additional information can be obtained from IISAC's tropical green school www.tropicalgreenschool.org
8. Introduction to Tropical Agriculture
9. Tropical Aqua Culture
10. Plant Diversity & Taxonomy
11. Animal Diversity
Practical Training In Performing Arts, Visual Arts, Music, Cooking And Personal Grwoth
1. Indian music: theory and practicals
2. South Indian dances: theory and practicals
3. Kerala dances: theory and practicals
4. Kerala Folk dances theory and practicals
5. Kerala instrumental music: theory and practicals
6. Kerala drawings and paintings
7. Kerala sculpture
8. Malayalam Language Practicum
9. Beginners Kerala Cooking
10. Beginners South Indian Cooking
11. Beginners North Indian Cooking
12. Indian dress making and sewing
13. Indian fashion technology
14. Use of computers in Business
15. Use of computers in Sciences
16. Introduction to web design
17. Introduction to computer programming: Various languages
18. Introduction to Phytomedicine
19. Introduction to Tropical agriculture
20. Introduction to Tropical horticulture


For more information contact lukesunny51@gmail.com, iisac.nonprofit@gmail.com