Seminars and Workshops for high school and college students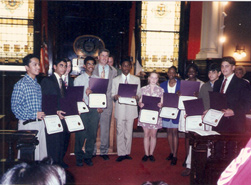 The institute has identified and inducted over 100 eminent scientists, professors, engineers and young professionals as career role models to assist high school and college students in purposeful higher education. They conduct higher education seminars, leadership programs, workshops with willing high schools and colleges on academic planning, soft skills development, verbal skills development, scholarship, financial aid and career developments. Over the last 10 years IISAC has conducted several such seminars and workshops either independently or in association with local community organizations.

Science Research Internship Programs
Motivated high school and undergraduate students will have the opportunity to get guidance from IISAC's experienced faculty to find suitable research internships under distinguished scientists during summer months in various prestigious US and foreign research laboratories.

Talented high school students should aspire to take part in the US wide Intel Science Talent Search, formerly known as Westinghouse Science Talent Search, during their junior summer months. Schools, school districts, state and federal governments strongly support this program to identify the "cream of the crop" in science and technology.

IISAC to its credits has several finalists and semi finalists and has groomed them into fully fledged scientists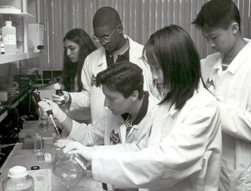 IISAC, drawing experience from its senior faculty, will provide valuable tips for identifying laboratories and mentors. These mentors will guide the members in hypothesizing a project, experimenting, and drawing conclusions to submit the final thesis to Intel.

In New York, some of our faculty members have already accepted students from prestigious high schools in their research laboratories and provided excellent research projects, which led to several semi-finalists and finalists in the Intel Science Talent Search and the New York Science Expo.

Moreover, some of these students also published their findings in reputed science journals and were admitted to distinguished US universities for higher studies in science, technology and medicine. Some of these students admitted at MIT, Harvard, Williams, NYU, SUNY Health Science Center and Brandeis still keep their research links as undergraduate research interns with IISAC's senior faculty.
Practical Training in Diagnostic Genetics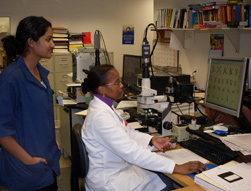 For students who are specializing in biomedical sciences or biology, IISAC has an intensive 6 months training program in diagnostic genetics in our affiliated medical centers and medical schools in New York. This program is meant for acquiring laboratory and clinical skills to be certified as clinical lab specialists who will identify chromosome and gene markers associated with genetic diseases, cancers, infertility, miscarriages, sexual anomalies, mental retardation etc.